SHANNON WOLFE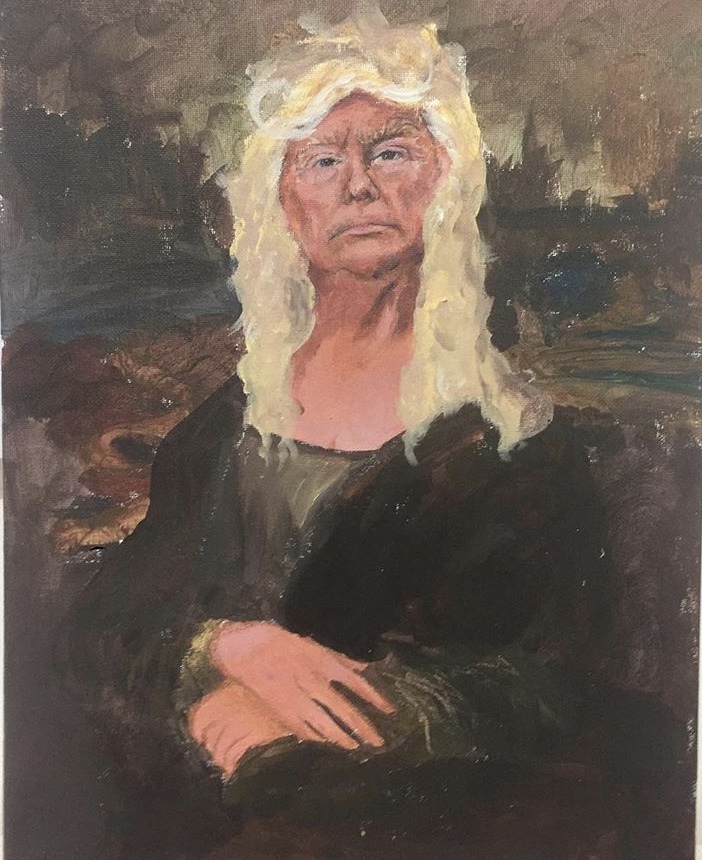 Trumpa Lisa
Acrlyic on canvas board
29x42cm

The Mona Lisa is one of the most recognised paintings in history to date. Donald Trump had to take the spotlight and become the most recognisable. The arrogance is outstanding.



Afternoon Tea Party

Acrylic on Cartridge paper
29x 42 cm

Queen Elizabeth having a psychedelic trip after ingesting bleach to kill off Coronavirus, advised by Donal Trump. Kills 99.9% of germs.


At Her Majesty's Pleasure
50x90cm
Acrylic on canvas

Queen Elizabeth behind bars. This is not the usual place you'd find The Queen of England, so why is she locked up? Why has she no name on her nematic? Has she demanded no nematic due to the fact everyone knows who she is?


Poison Chalice

Acrylic on cartridge paper
29x42cm

Queen Elizabeth sippin' on bleach and juice. After listening to Donald Trump's advice on ingesting bleach to kill off Coronavirus, Queen Elizabeth is having a taste of the bleach life.


Shannon is a Dublin based artist. Her work explores humour and satire of political
and authoritative figures, amplifying the intrigue and interest of her audience. She
utilizes dark humour and reality to create critical and humorous messages. The
paintings she makes undermine connections with the history of traditional painting
and portraiture.

In the history of painting, refined and flattering portraits are traditional. The work
turns this notion on its head. Her portraits undermine the person's authority & status,
linking her work with the historical tradition & contemporary notions of mockery.
Shannon places hierarchy figures in scenarios one wouldn't normally view them in,
triggering a sense of confusion or question to her audience. The visual material,
subject and conceptual concerns are fuelled by the media machine that never stops
giving and she is fascinated with how political & authoritative figures react, behave
and comment on the current world crisis.